Bypass Google Account Verification Apk 2023 Complete Guide 
With the release of Android Lollipop, Google also brought a new feature. This feature is factory reset protection and it comes useful when you lost your phone or it gets stolen.
Other people won't be able to use your Android smartphone or tablet if you have set up a security pin or pattern lock.
In earlier Android devices, bypass google account was easier through factory resetting. But now with a new factory reset protection feature, you won't be able to use device unless you remove FRP.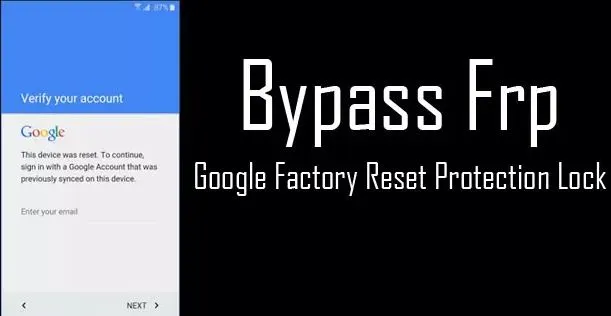 We have seen Samsung users have faced this problem. But also those people who bought their Android device from someone can also get in trouble. So in such case, you don't need to worry if your device asks for google account verification.
Bypass Google Account Verification Apk 2023 Download
Before you are going to download and use apk file, make sure your device is running Android Lollipop. You also need a internet connection and Windows PC.
Below we are sharing the best frp bypass apps to bypass Google account verification in 2023.
Bypass Google Account Verification on any Android Phone
Make sure that you have factory reset your android device. Once done, after reboot you will need to select your desired language. After you have selected the right language, follow these steps:
First, you will need to connect your Android device with any WiFi network.
After that, you will be asked for entering google account credentials. You need to tap on text field until you see the keyboard on the screen.
Next, you will need to tap and hold the @ character. By doing so, settings menu will pop up.
On the top of the screen, you will see three dots, tap on them. Next, choose help and feedback from options.
Then choose any of the items that listed in help and feedback option. Now long press any text on the screen and choose web search option showing in the right corner.
You will then see a search field showing, type settings and then tap on about phone option. Next, you will need to tap seven times on build number option for enabling developers option.
Next open developer option by returning to the previous menu. Then you need to allow OEM unlocking and tap back twice.
Now restart your android device and connect it with your WiFi network once again.
Now you won't be asked for entering the previous google account credentials. But this time you will be asked to enter the new google account. Follow on-screen instructions and you are done.
Follow the video tutorial given below in case if you are finding this method difficult.
You can also download frp bypass apk to quickly remove Google account verification.