In this article, we are going to share the complete guide on how you can bypass Google FRP on all Samsung Galaxy devices easily in 2022. We have already shared a detailed guide about factory reset protection and bypassing methods. One of the most popular methods is Frp bypass apk to bypass google account verification on Samsung devices. But in this article, we are going to share the latest and working method to bypass Google Factory reset protection on Samsung devices. So let's check it out.
Most of the time when you face FRP lock on Samsung devices you face this error message on your device screen.
"This device was reset, to continue, sign in with a Google account, that was previously synched on this device"
If you have forgotten your Google login credentials and mistakenly you factory reset your android device, then you face frp lock issue. You have to use your previously synced account in order to access your device. If you are unable to fix FRP lock problem, then your device is worthless. Because you won't be able to access it. So, unlock your device and bypass Google factory reset protection.
Important Note: We have tested this method on almost all Samsung devices and it seems to be working fine for most of them. In case this method doesn't work on your device, search your device name on our website. You will find the guides related to your device only to fix the FRP lock problem.
Also Check: Samsung Bypass Google Verify Apk Download 2022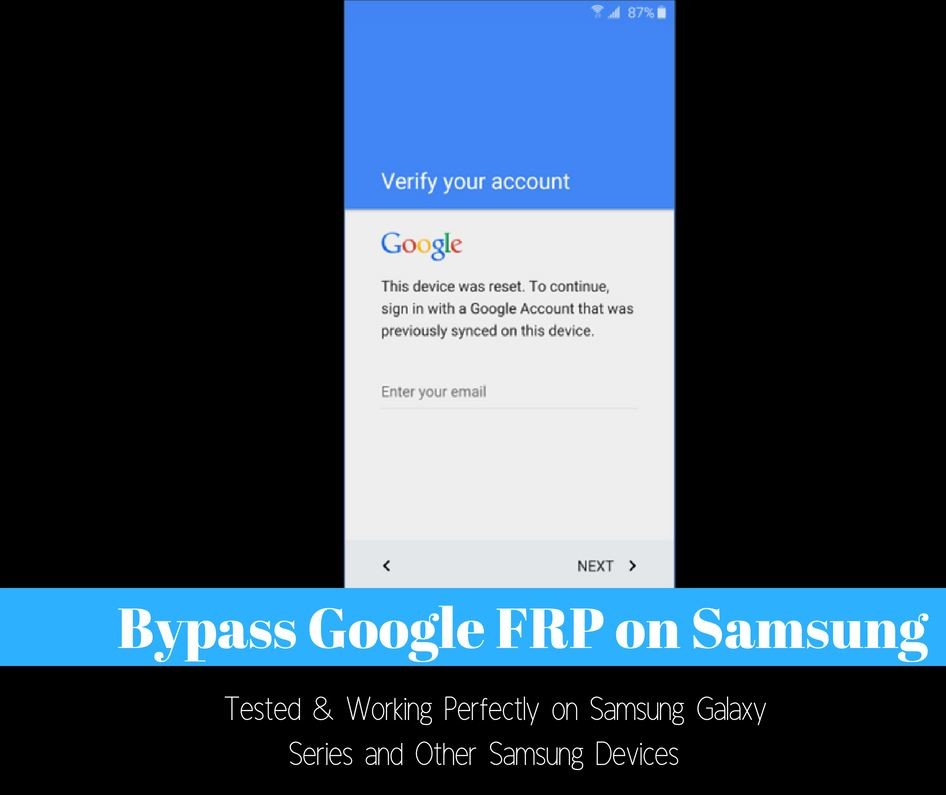 Bypass Google FRP on Samsung Devices
Follow the step-by-step guide given below to fix the Google FRP lock on Samsung devices. So let's get started:
Turn on your Samsung Galaxy device after you have done the factory reset. First, you need to connect your device to the Wi-Fi network.
After that go back to the welcome screen and press the home button three times. It will enable Talkback feature.
In case your device doesn't have the home button, you need to long tap using two fingers. Once talkback is enabled, move to the next step.
Next, you will need to draw L on your device screen. Swipe down to right on the screen. It will bring some options. You need to double-tap on Talkback settings.
Then able or tick the "speak when the screen is off" option.
Next again draw L on screen and then double tap on "pause feedback" option. It will suspend talkback.
Now double tap on OK button for successfully suspending talkback.
In Talkback settings, tap on "help & feedback" option.
Then click on the search icon and type Voice and tap on voice option.
Next tap on "get started with voice access". There you will see a YouTube video tutorial.
Tap on video play button to play the video. Tap on the share button and then tap on three dots. It will redirect you to the YouTube website or app.
Pause the YouTube video and drag it down. Click on three dots showing on the top right side of YouTube.
Then select the "Terms & Privacy Policy" option. It will ask you to choose the Internet browser or Google Chrome to open as the default browser. Pick your desired one.
Download Quick Shortcut Maker Apk
Once the internet browser opens on your Samsung Galaxy device. Visit our website https://frpbypass.download/ and click on the downloads section.
Next download Quick Shortcut Maker apk file. Download the apk file, two different versions are available in the downloads section.
Once the quick shortcut maker apk file gets downloaded. Install it on your Samsung device.
After installation is done, tap on Open. Then in the search bar type Google account manager.
There you will see multiple options. Tap on "Type email and password" Quick Shortcut maker option.
Next, click on the try option and it will ask you to type your Google account password. Tap on three dots showing on the top right side and select the browser sign-in option.
Here you will need to use new Google account details or create a new Google account. After completing this step, Restart your device.
After your device restarts, you won't face Factory reset protection issues anymore.
Frp Samsung Bypass Video Tutorial
Watch this video tutorial if you are finding the above step-by-step tutorial difficult. This video will help you easily understand the above steps.
We hope this guide helped you to bypass Google FRP on Samsung devices in 2022. If this guide helped you share it with your friends. And if you are still facing the issue, let us know in the comments so we can provide the direct solution to you.